NDC & UHCC REUNION CRUISE
October 28th – November 04, 2018
In 2006 we started a group cruise that brought together some of the most amazing people from all over the world.  We networked, partied, shared information and credited lasting friendship on the Nubian Dreams Cruise and and then the Ultimate Caribbean Halloween Cruise.  We will return for this one time.
Welcome to the UHCC/NDC Reunion Cruise.
from NYC to Orlando/Port Canaveral – Great Stirrup Cay & Nassau, Bahamas


Early Booking $ 125.00 deposit per person till August 7th, 2017 

Steps to Book:
1) Fill out NDC/UHCC Reunion Cruise 2018 
2) Call 800-381-1580 to complete booking
3) Review Travel Documents for travel.  Click for Travel documents required.
4) Parental Form for those minors traveling without parents. Click Here
5) Booking Air & Pre-Cruise Hotel (By Request)
DAY 1
Sunday – October 28, 2018   DEPARTS 3:00 PM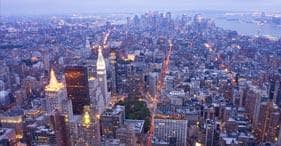 Welcome: New York City

Everyone loves New York and there are a million reasons why. Here are but a few: the Statue of Liberty, the Empire State Building, Grand Central Station, the Ellis Island National Monument, the Brooklyn Bridge, the Metropolitan Museum of Art, the Guggenheim Museum, Times Square, Broadway, Greenwich Village, 5th Avenue and Central Park.
DAY 3
TuesdaY – OCTOBER 30, 2018 –  ARRIVES 1:00 PM  – 9:00 PM
Port of Call: Orlando & Beaches (Port Canaveral)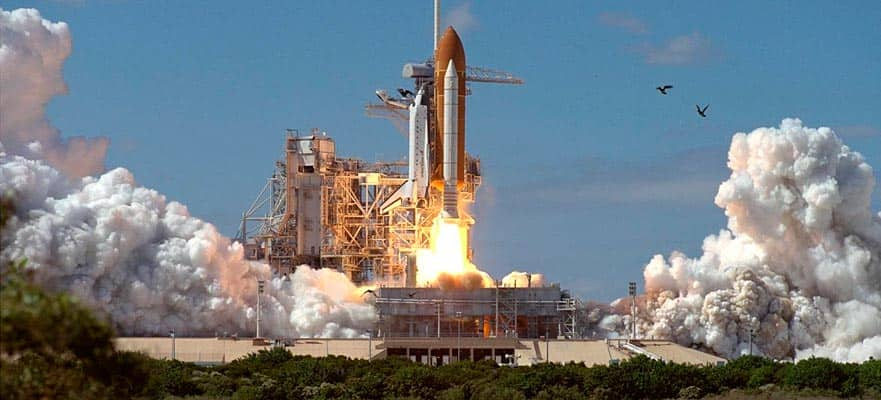 This is the place to shuttle from one exciting port to the next. Visit nearby Kennedy Space Center for a day of inspiring and educational exhibits. Amuse yourself at any one of the world-class theme parks. Or spend the day watching for alligators from an airboat. Looking for a cruise that stops in Port Canaveral?
From the waterfront to the end of Bay Street, you'll find some of the best duty-free shopping and a charming mix of architecture, both old and new. But there's plenty to do besides shopping – swim with the dolphins, try your luck in a casino or snorkel with colorful fish. Explore all the activities you can enjoy on your Norwegian Caribbean cruise vacation.
Situated on the New York Harbor Cape Liberty is just seven miles from New York City. Visitors have easy access to the Big Apple and everything it has to offer-world-acclaimed restaurants, museums, landmarks, and the best shopping.
__________________________________________________________________________

Contact ZENBIZ TRAVEL – 800-381-1580
or email info@zenbiztravel.com
_________________________________________
The Norwegian Escape Ship

Get ready to escape on the newest and most exciting ship on the seas! Norwegian Escape, our most innovative ship ever built, is ready to whisk you away to the Bahamas and The Caribbean from Miami. Indulging in every whim is what unforgettable vacations are made of. Get ready to chase sunsets on The Waterfront. Explore a world of exotic flavors with two new restaurants from Iron Chef Jose Garces. Get closer to paradise with two quintessential Jimmy Buffett venues: Margaritaville at Sea and the 5 O'clock Somewhere Bar. Sip on some of Napa's best blends at The cellars, A Michael Mondavi Family Wine Bar. Or try our unique specialty cocktails, hand-crafted by Bar Lab. Be dazzled by Broadway hits like After Midnight. Discover a new world of Freestyle Cruising on Norwegian Escape.
________________________________________________________________________
Itinerary
Please Note:
*Disembarkation usually begins 2 hours after docking.
*Due to security reasons, all guests must be on board 2 hours before sailing.  *Itineraries are subject to change at any time without notice.  Check your specific sailing for exact departure and arrival times.
_______________________________________________
Staterooms
After a day of exploring the world, its exotic cuisine and interesting cultures, there's nothing better than returning to the comfort of your private stateroom. We've designed every one of our staterooms to be a comfortable, relaxing place for you to rest after your adventures. Our staterooms vary by ship, but every room offers a television, telephone, private bath, shower, vanity and even a hair-dryer.  We offer four main categories of staterooms within the group. By choosing a category, you can then choose to upgrade if you wish to a specific room-type, based on your needs.  
Inside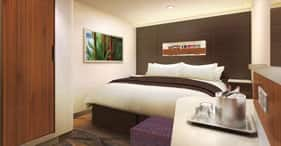 Located on higher decks near the fun, these staterooms feature two lower beds that convert to a queen-size bed and some feature additional bedding for up to two guests. Some connect. (Door opens to center interior corridor.)
Accommodates: 2-4   Total Approx. Size: 135 sq. ft
Priced from $882.95 per person (based on double occupancy)
Oceanview with Large Picture Window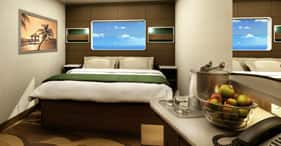 Located mid-ship, you will have easy access to everything. These staterooms feature a large picture window and two single beds that convert to a queen-size bed.
Accommodates: 2     Total Approx.    Size: 161 sq. ft
Price Upon Request
Balcony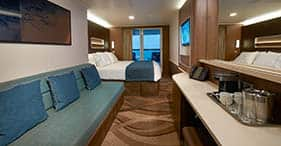 Enjoy easy access to all the delicious dining and exciting activities on board from your stateroom that includes two lower beds that convert to a queen-size bed and additional bedding for up to2 guests.
Accommodates: 2-4   Total Approx. Size: 207 sq. ft.   Balcony Size: 32 sf
Priced from $1,222.95 per person (based on double occupancy)

Mini-Suite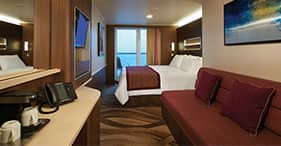 Located mid-ship with easy access to everything, these Mini-Suites feature two lower beds that convert to a queen, sofa bed, some feature additional bedding for 1, and a private balcony.
Accommodates: 3-4   Total Approx. Size: 251 sq. ft    Balcony Size: 44 sf
By Request (based on double occupancy)

 Studio (By Request)

Private keycard access complex comprised of staterooms specifically designed and priced for the solo traveler. Featuring a full-size bed, a one-way window to the corridor, and separate areas for your bathroom, sink and shower, in 100 square feet of living space. Includes access to the private Studio Lounge. No single supplement required.
Accommodates: 1      Total Approx. Size: 99 sq. ft – Price upon Request
THE HAVEN SUITES (By Request)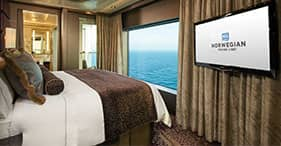 Hidden at the top of the ship, The Haven features our most luxurious, well-appointed accommodations as well as 24-hour butler service, concierge service and private sundeck.
Price upon request
*** Upgrades available and special promotions where applicable.  Suites, Studios and other stateroom categories are available by request.
All service charges paid onboard regardless of booking date will be charged;
• $16.99 USD per person per day The Haven and Suites; $13.99 USD per person per day for Mini-Suites and below.
>An 18% gratuity is also automatically added to beverages and the mini bar. Beverage gratuities are pooled and shared by various dining and beverage service staff.
> An 18% gratuity is added to spa and salon purchases.
_________________________________________________
MORE INFO
What's On Board    Deck Plans     Passport Info     Travel Protection      Shore Excursions  Travel Alerts  Hazardous Materials     About Zenbiz Travel, LLC
___________________________________________________
NDC/UHCC Reunion – Prices are based on double occupancy. Reservations – Cruise only requires  the deposit of $250 per person. The mandatory final payment balance is due on or before 07/15/2018. Prices are subject to change prior to deposit. Rates are subject to any cancellation penalties imposed by the suppliers as outlined in the Terms and Conditions. Suites, Single, triple or quad cabins must call for rates. Guests may qualify for special rates. Guests are responsible for increases by Cruise Line for fuel or taxes. All schedules are subject to change. Travel insurance is strongly recommended but not included in prices listed.  Special Event Pass not included.  It will be offered to all  Zenbiz Travel & other partners guests.
Credit Card Payments via credit card authorization form. To pay by check or money order: KHM Travel Group and mailed to Zenbiz Travel 92 St. Nicholas Avenue, Suite 6G, NYC, NY 10026. Please call Zenbiz Travel at 800-381-1580 for more info. Registration form is required for each guest who will be paying separately in addition to names and date of birth for all passengers.  Passports must be valid 6 months after travel.
TO BOOK CLICK LINK